My Chicago Office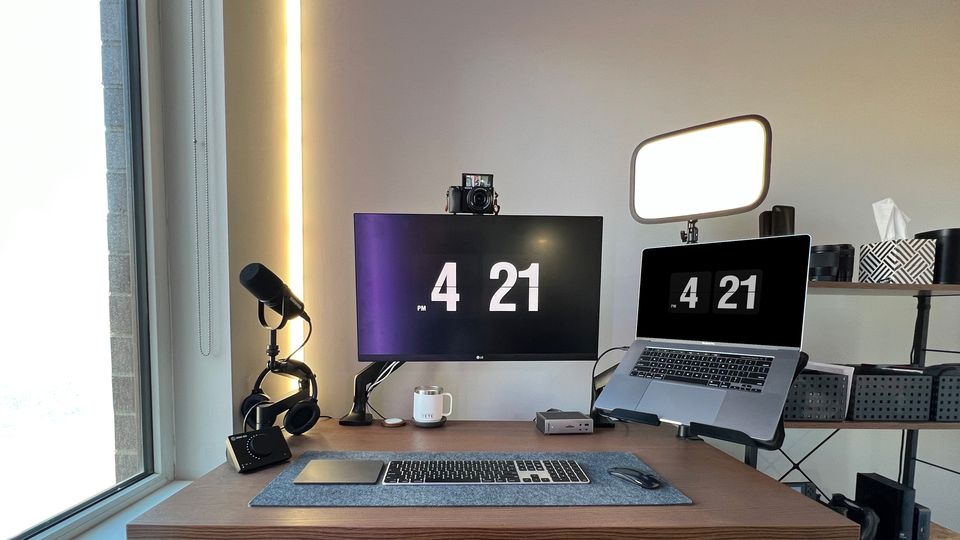 Last fall, I moved to Chicago and had a chance to redesign my remote work setup. This was my first time setting up a dedicated office (as opposed to a corner of the living room), working fully remote. With a new job and a generous WFH stipend, I invested a lot of time into finding the perfect gear to improve my workstation, so here's a rundown infested with affiliate links.
Basics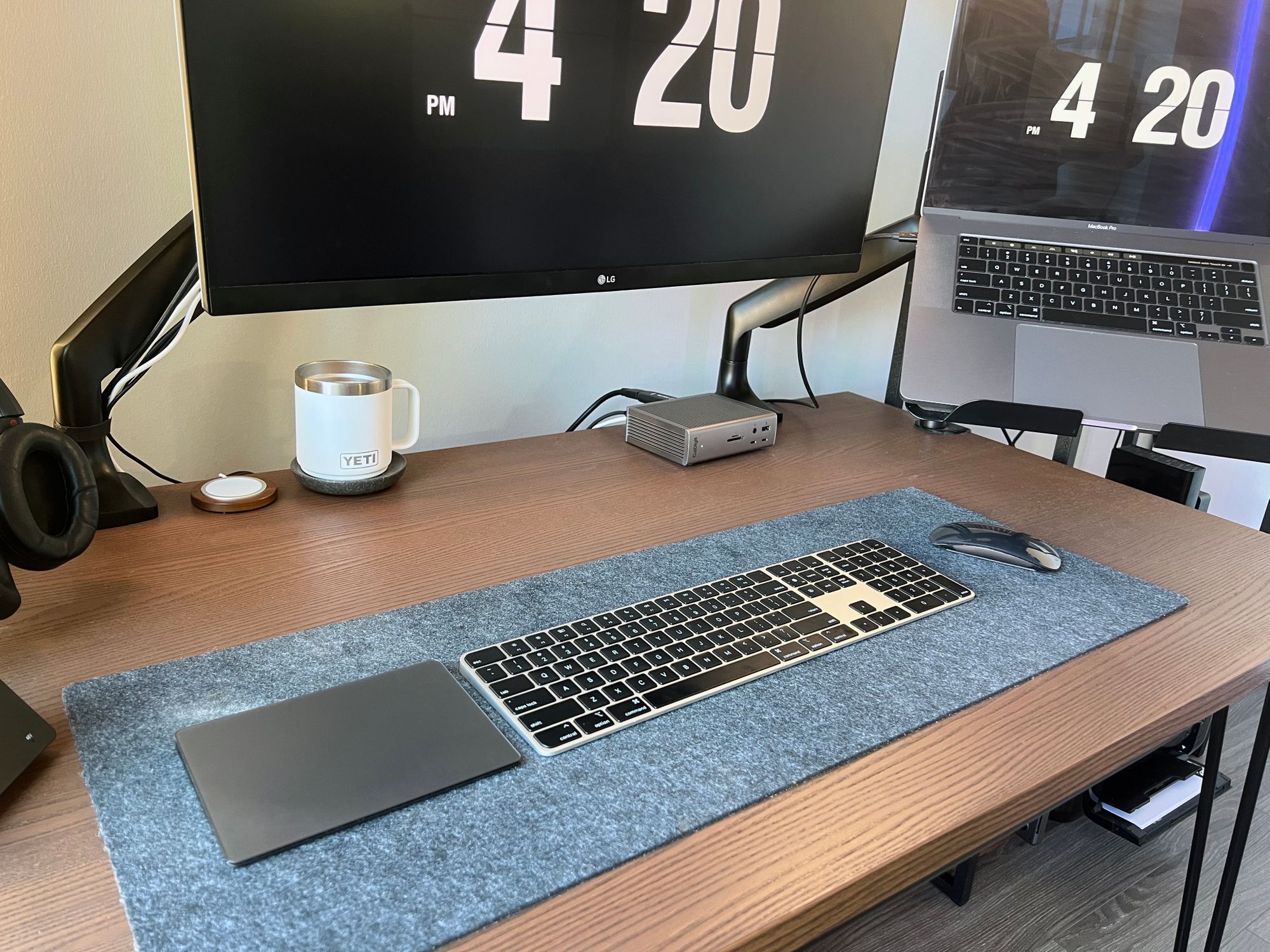 The desk itself is an Ikea IDÅSEN Tabletop attached to hairpin legs. On the desk, I've stuck with the boring Apple Keyboard, Trackpad, and Mouse atop a large Felt Desk Mat. Under the desk, I have a bamboo mini cruiser skateboard serving as a footrest. The chair is a Herman Miller Mirra with Caster Wheels.
Display
Until I can convince myself to pull the trigger on the Apple Studio Display, I'm rocking a VESA-mounted LG 27 Inch 4k Display on a Jarvis Monitor Arm as my primary display, and my laptop serves as a second display atop a Jarvis Laptop Arm.
Audio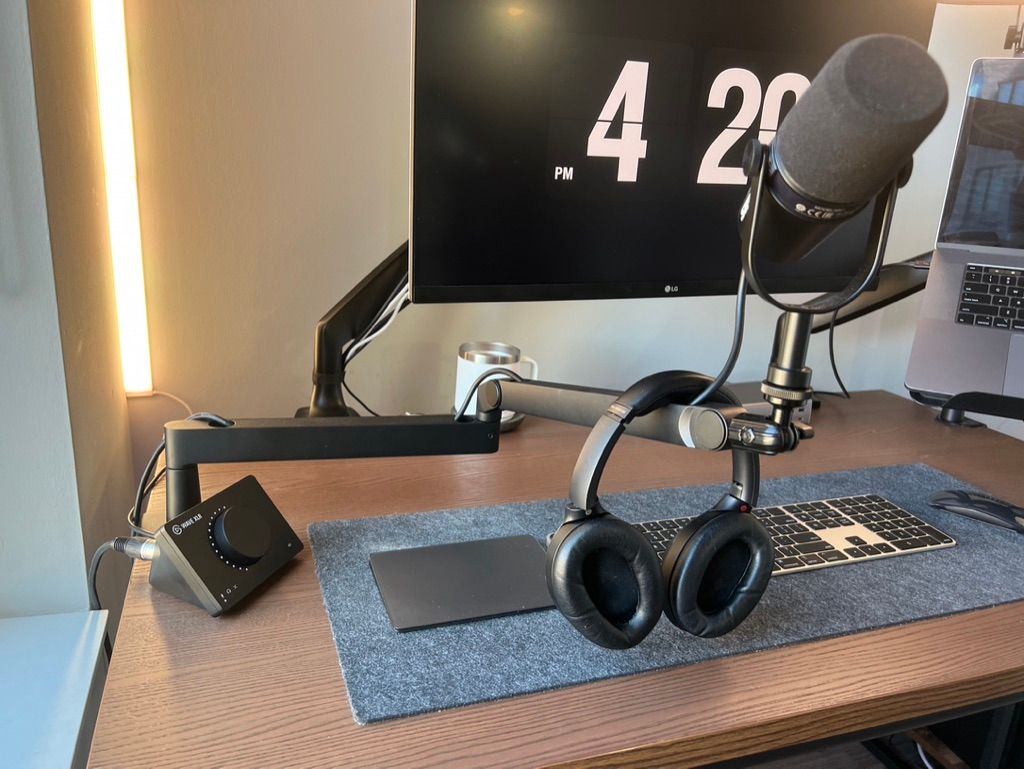 I use a Shure MV7 mic mounted on a low-profile Elgato Mic Arm. After missing some of the features of my old Elgato Wave: 3, I swapped out the USB connection for an Elgato Wave XLR. It has a capacitive mute switch and tactile controls for input gain, monitor volume, and crossfading between mic and computer mix. I've plugged in my Sony Noise Cancelling Headphones to the audio interface to monitor my input without the annoyance of audio delay. They're a supremely comfortable listening experience; I can wear them all day without issue.
Video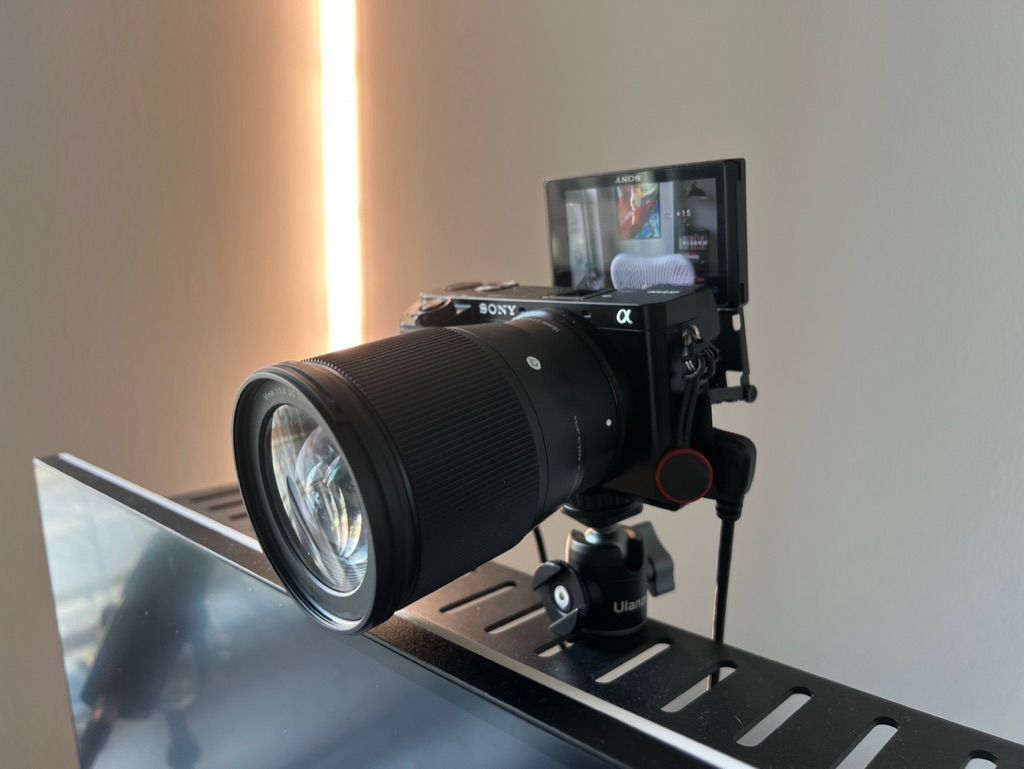 After years of waffling back and forth, I finally took the plunge and upgraded my webcam setup to a Sony Alpha 6100 with the Sigma 16mm f/1.4 lens mounted on a Heckler Camera Shelf. I couldn't get an acceptable frame rate with Sony's webcam software, so I bought an angled micro-HDMI connector and an Elgato Cam Link 4K.
Lighting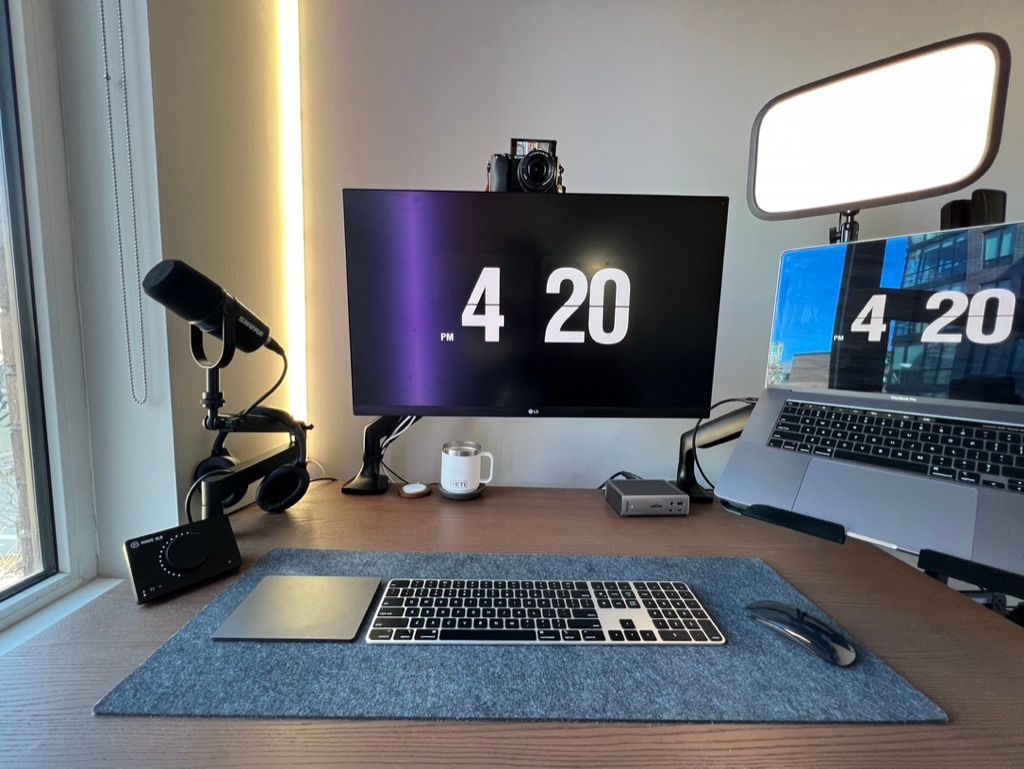 During the day, this room's primary light source is the large 6×6ft window. On the opposite side, I use an Elgato Key Light to fill in the shadows on that side of my face. A LIFX Beam behind my chair corner serves as a fun backlight and always sparks a conversation if I'm taking advantage of the fun colors.
After the sun's gone down, the Key Light gets promoted to the primary light. A second LIFX Beam in the corner behind my desk takes over the role of fill light.
Streaming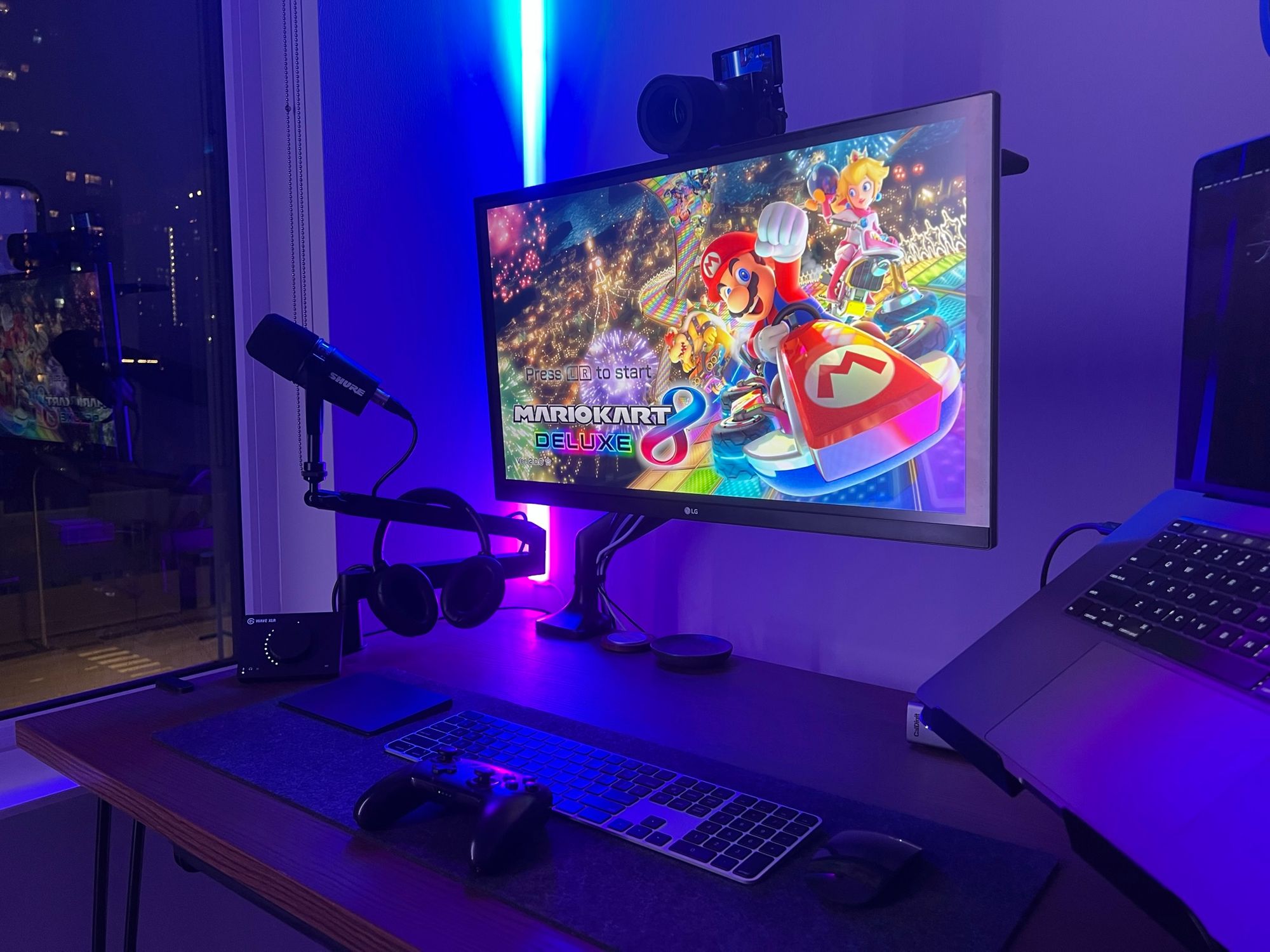 With this much fancy A/V tech and LEDs, I was well on my way to every Twitch streamer's setup. So I just leaned into it. An Elgato HD60 S+ lets me pass video to the display and capture HDMI signal for streaming. I have a PlayStation 4, Nintendo Switch, and an Intel NUC connected to the capture card via an HDMI splitter.
Cable organization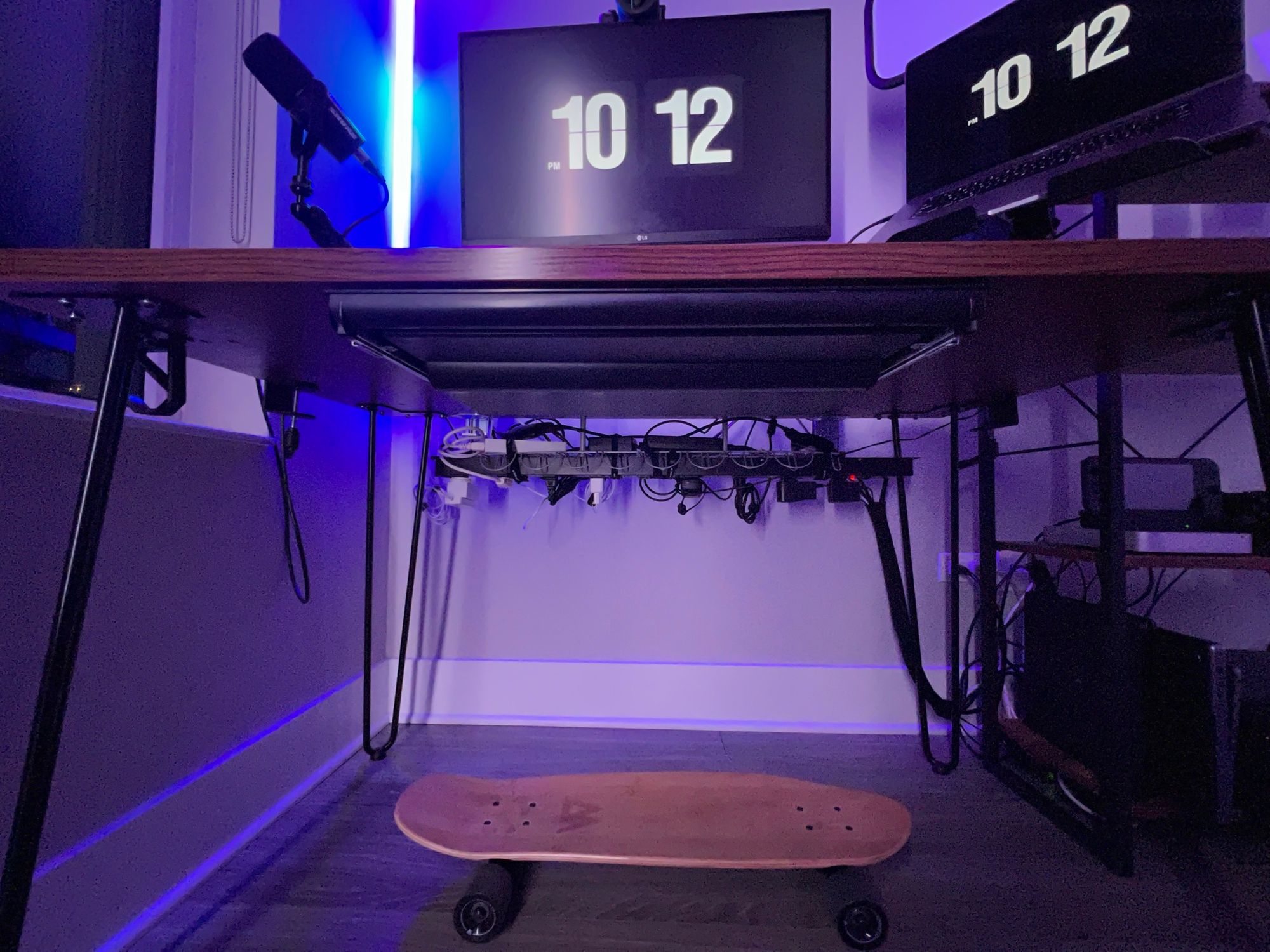 Keeping this many cables out of sight can be a tall order. The first step was plugging everything into a 9-Outlet Surge Protector mounted under the desk alongside a cable management basket to hold any AC adapters and excess cable length. I've routed all the cables to a CalDigit Thunderbolt 4 Dock, which can pass everything to the laptop over a single Thunderbolt 4 cable. This arrangement makes it easy to swap between my work laptop and my personal machine without reconnecting a dozen peripherals. I planned out all the adapters, cables, and power requirements with FigJam.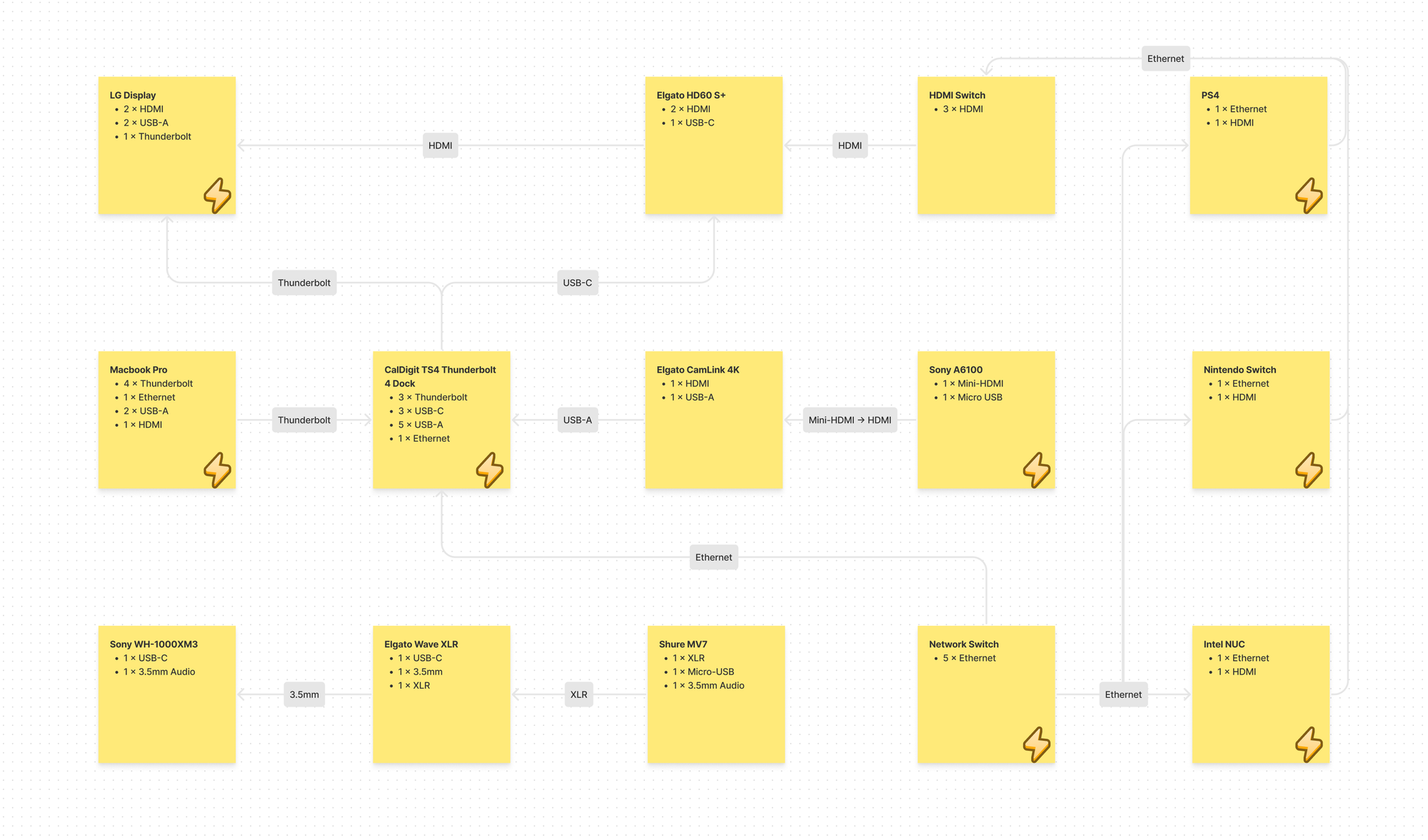 Given that I spend most of my time in this room, I'm pleased with how it turned out and glad I invested the time and money to tailor this space to my tastes. I've already got my eye on some new adjustments, and I'll try to keep this post updated as I find new ways to improve the setup.
Follow Along
Get the latest posts delivered right to your inbox